Epson EcoTank L3111 Printer
Enjoy Cartridge Free Printing with the Epson EcoTank L3111 All-in-one Ink Tank Printer
If you never imagined what's possible when you put the cartridges aside, here's your real test. Try using the Epson EcoTank L3111 printer. An all-in-one print, scan, and copy solution from Epson. Cartridge-free printing ensures you minimize your costs at all levels possible without compromising on the quality of print or copy.
The Epson L3111 printer comes packed with up to three years worth of ink (an equivalent of 83 cartridges). And an intelligent ink filling system that's the only characteristic of Epson printers in Nairobi.
Epson EcoTank L3111 Printer: Cartridge-free printing
Cut off your printing cost worries with the Epson EcoTank L3111 printer. Epson's economical, next-generation, cartridge-free printer. This 3-in-1 is easy-to-use and compact.
Looking for a stylish and economical printer? This 3-in-1 EcoTank features a striking control panel and comes with up to three years' worth of ink included.
Saving you up to 90% on the cost of ink. With its enhanced ink filling system and new ink bottles engineered to minimize spills' risk. This compact model proves a reliable and easy-to-use solution for printing in high volumes.
Ultra-low-cost
Three whole years – that's how long you could go without buying ink for the Epson EcoTank L3111 printer. This means it can save you up to 90% on the cost of ink. Giving you a meager cost per page produces up to 8,100 pages in black and 6,500 in color with the included ink.
Cartridge-free printing with Epson EcoTank L3111 printer
With the equivalent of up to 82 cartridges' worth of ink. You can go longer between refills with this Epson L3111 printer in Nairobi. It uses an ultra-high-capacity ink tank to eradicate the need for cartridges. Also, with this 3-in-1, you can take advantage of print, scan and copy features.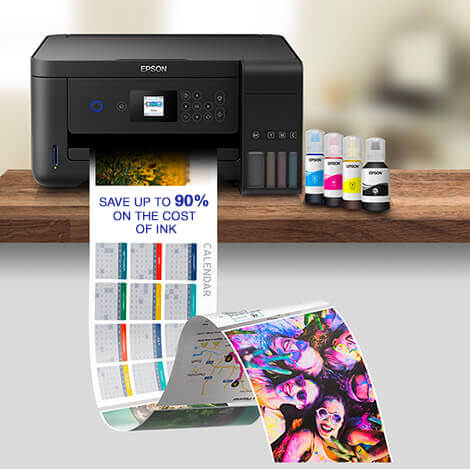 Discover the next generation
Thanks to the ink tank being positioned at the front of the Epson EcoTank L3111 printer, this new design is compact, provides easy access for refilling, and a clear view of the ink levels. It features an enhanced ink filling system engineered to minimize the risk of spills and mess. The new bottles incorporate a mechanism that ensures only the right tanks are filled with the corresponding color.
Quality results
With a Micro Piezo printhead, EcoTank provides a reliable printing solution. A one-year warranty is provided as standard, while promotional warranties may offer more. Check the technical specification for the latest offer.
Key Features of the Epson L3111 printer
Up to three years' worth of ink1: Equivalent of up to 82 cartridges' worth of ink included2
Ultra-low-cost printing: Print up to 8,100 pages in black and 6,500 in colour3
Next-generation ink filling system: Enjoy hassle and mess-free refills with enhanced ink bottles
Reliable results: Micro Piezo technology, Epson genuine ink, warranty
3-in-1: Print, copy & scan, and borderless photo printing with the Epson L3111 printer